Financing
Helping Chile re-gain access to global debt capital markets in volatile times
July 15, 2020
Just as investors turned an optimistic eye to the year 2020, Chile began to face its share of economic, political and social challenges, including flare-ups of domestic social unrest followed by the COVID-19 pandemic, which put the brakes on economies around the globe.
This Andean nation has seen Scotiabank showcase its commitment to corporate and institutional clients, leveraging its leadership in global wholesale banking, to re-open local and international debt capital markets.
Stephen Guthrie, Senior Vice President, Wholesale Banking Head in Chile, explains how recent events have only strengthened Scotiabank's resolve to serve local and international clients operating in Chile, highlighting the Bank's 30-year history in the country, and the continued promise of the Pacific Alliance trading bloc.
Confident, based on a solid past
For years Chile has attracted global investors – an open economy, political stability and diverse sources of exports including a leading position in the global production of copper – were all key contributors to Chile's reputation as Latin America's most stable nation. Notwithstanding, these sentiments were put to the test last October when social unrest broke out, sparked by public discontent regarding income distribution and social inequality.
Stephen Guthrie points out that Scotiabank was undeterred by the events, based on the Bank's steady growth in the country, from its initial investment in 1991, through successive acquisitions and organic growth, to become the third largest bank in the country with a 14% market share of loan assets. 
Following Scotiabank's acquisition of BBVA Chile's operations in 2018, the Bank also grew into a leading corporate bank in Chile with 450 professionals delivering a full range of onshore Corporate and Investment Banking, Global Capital Markets, Cash Management and Trade Finance products and services, augmented through closely connected Global Banking and Markets teams in the U.S., Canada, Europe and Asia. Now, many of these clients are also leveraging Scotiabank's Americas footprint, particularly among the Pacific Alliance countries, in order to expand their regional investments and trade in Colombia, Mexico and Peru.
Clients also benefit from Scotiabank's relentless efforts over the past decade to expand its debt capital markets capabilities, which has made Scotiabank the top underwriter for Chilean issuers1 (See table below).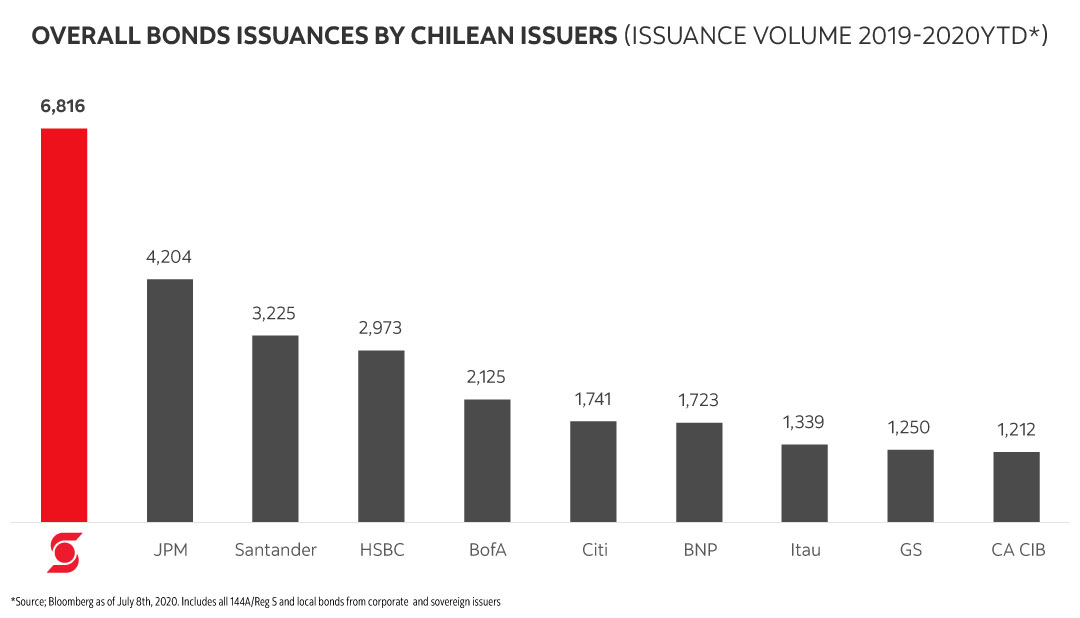 Standing firm, despite uncertainty
Scotiabank's market leading position in Chile was put to the test over the past few quarters, notably when October's social unrest disrupted activity in local bond markets, squeezing liquidity for Chilean enterprises – both large and small.
"We certainly saw the impact of the protests on the financial markets, but we stayed close to our clients to advise them on how to successfully access international capital markets," recalls Guthrie.
In fact, amidst the social unrest, Scotiabank served as global coordinator, joint bookrunner and deal manager of a US$1 billion bond issue with 10 and 30-year tenors for Celulosa Arauco y Constitución S.A. ("Arauco"), one of Latin America's largest forest plantation owners and one of the world's largest pulp producers.
Similarly, Scotiabank advised Empresas CMPC S.A. ("CMPC"), a global leader in pulp and paper, to successfully become the first Chilean corporate to access the international bond market after the social unrest subsided. CMPC's US$500 million, 10-year bond was placed on January 8th, 2020, with Scotiabank serving as global coordinator and joint bookrunner.
Both issuances were highly oversubscribed and provided these clients with competitive, long-term financing. 
Over time, Scotiabank had also developed a strong track record in sovereign and sub-sovereign debt issuances, which included several issuances on behalf of the Republic of Chile and Corporación Chilena del Cobre ("Codelco"), a state-owned company and the world's largest copper producer. Confidence in Scotiabank's track record and execution capabilities played a key role when, in mid-January 2020, this important mining company selected Scotiabank, for the third time in a row, as joint bookrunner for a new US$2 billion bond with 10 and 30-year tenors.
Then, in the first days of March, Scotiabank advised Colbún S.A. ("Colbún"), one of the largest power generation companies in Chile with operations in Peru, to issue a new US$500 million, 10-year bond and simultaneously repurchase part of the company's outstanding bonds maturing in 2024. With Scotiabank acting as global coordinator and joint bookrunner, this liability management transaction was successful in extending the debt maturity profile of the company.
Stepping up during COVID-19
Just as Chile's domestic tensions subsided, the novel coronavirus pandemic created unprecedented liquidity demands on Chilean government and corporates. Again, Scotiabank stepped forward, with its debt markets expertise, track record and solid balance sheet to support three historic client mandates in close succession.
Among them, in late April 2020, Scotiabank again acted as joint bookrunner to Codelco, supporting them in becoming the first Chilean issuer to access foreign bond markets following the start of the COVID-19 outbreak. The US$800 million, 10-year bond issuance was very successful, achieving significant oversubscription levels.
Days later, Scotiabank served as joint bookrunner for a US$1.5 billion bond issuance with 10 and 30-year tenors for Empresa de Transporte de Pasajeros Metro S.A. ("Metro"), Santiago's integrated public transportation company. It was the largest ever financing transaction by the company. The following day, Scotiabank acted on behalf of the Republic of Chile, as joint bookrunner for US$2.0 billion in SEC registered multi-currency global bonds (including a EUR$500 million 4.7 year bond and a US$1.5 billion, 10.7 year bond).
Executed within days of each other, these landmark transactions re-opened the international markets to Chilean issuers at a critical moment and reaffirmed Scotiabank's commitment to its clients. Scotiabank stood out as the only international bank serving as an advisor on all three transactions.
"These transactions highlight Scotiabank's commitment to the Chilean market, not only in times of prosperity but also in challenging moments," observes Guthrie. "We're confident in Chile's ability to overcome the current challenges, and we're ready to advise and deliver timely solutions to help our clients realize their goals." Moreover, Chile's story also brings to light Scotiabank's continuing commitment of being a trusted partner to all our clients across the Pacific Alliance footprint.
For more information about Scotiabank's Wholesale Banking solutions and opportunities in Chile, please contact:
Stephen Guthrie
Senior Vice President, Wholesale Banking Head in Chile, 

+56 2 2619-4514
1. Bloomberg League Tables, January 1, 2019 to July 8, 2020. Includes all 144A/Reg S and local bonds from corporate and sovereign issuers.