LatinFinance recently announced its '2020 Deals of the Year Awards,' including two landmark transactions in Mexico and Brazil that highlight Scotiabank's extensive regional capabilities for clients, including its locally based and global industry, product and specialist teams, ranging from debt capital markets to liability management and ESG.
Among the 2020 awards selected by LatinFinance to recognize outstanding transactions, people and institutions:
'Quasi-Sovereign Bond of the Year,' was awarded to PEMEX's US$5 billion dual tranche, senior notes and liability management transaction, in which Scotiabank served as Joint Bookrunner and Deal Manager. Investors reacted positively to the January 21, 2020 transaction for Mexico's state-owned oil and gas producer, refiner and distributor, with the combined order book exceeding US$30 billion at its peak, allowing for strong price tightening and guidance for the new 11-year and 40-year notes.
'Corporate High-Grade Bond of the Year' was awarded to Suzano Austria GmbH's US$750 million sustainability-linked SEC-registered notes offering, in which Scotiabank served as Global Coordinator, Joint Bookrunner and Deal Manager. The September 10, 2020 transaction by the world leading, Brazilian producer of pulp and paper products was extremely well received by investors. It was the first sustainability-linked bond (SLB) aligned to ICMA's SLB principles, the first SLB from a non-European issuer in public markets, and the first SLB with a second party opinion on the framework.
"These benchmark transactions not only reflect the caliber of the issuers and deal team, but they also highlight Scotiabank's emergence as a top local and international bank across Latam," remarks Juan Fullaondo, Managing Director and Head, Debt Capital Markets, Latin America and Caribbean. "The Bank's efforts to bolster our DCM teams in the Americas, alongside specialized global resources in areas such as liability management and transaction advisory and sustainable finance (ESG), have complemented Scotiabank's growing profile as a trusted advisor and lender to the most respected clients in the region."
Local teams bring the world to clients
Fullaondo emphasizes that high profile, international transactions are often rooted in strong local teams who deliver full service local currency DCM advice and execution to clients in many jurisdictions in the region and which ultimately has complemented and positioned Scotiabank to lead emblematic international local currency transactions in recent years. Such on-the-ground activity helped Scotiabank ascend the industry league tables. For example, from 2017 to 2021 YTD Scotiabank ranked first place in local currency bond issuances in the Pacific Alliance trade bloc nations of Chile, Colombia, Mexico and Peru, totaling US$16.4 billion of bond deals issued from our clients.1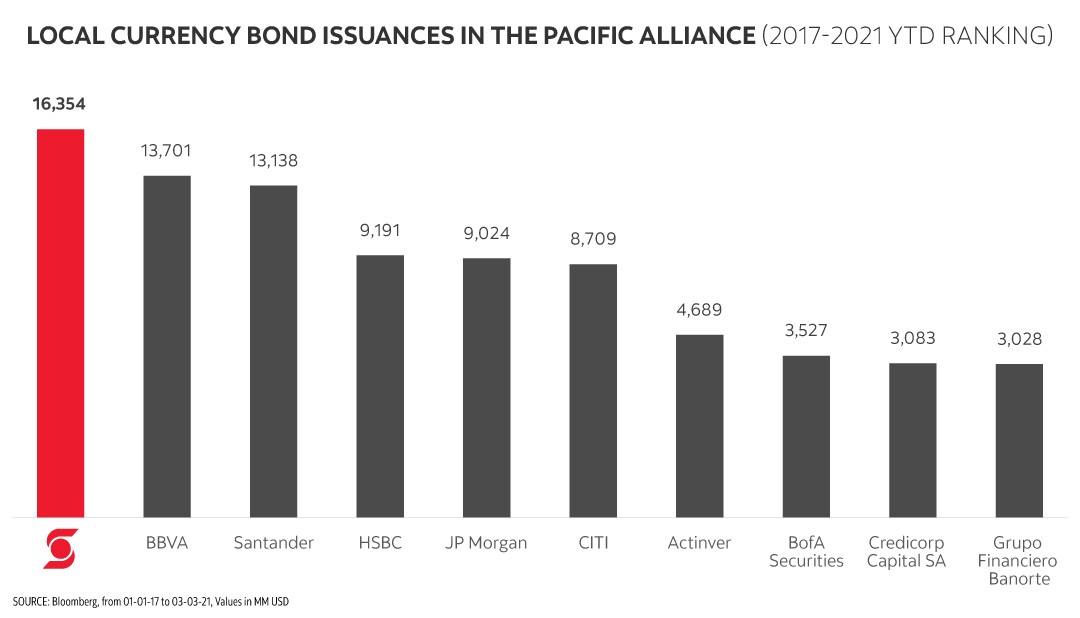 Hector Perez Osorio, Managing Director and Head of Global Banking and Markets in Mexico, highlights how Scotiabank has become one of the leading corporate debt underwriters, both in short- and long-term issuances, and one of the primary underwriters of securitizations. In 2020, the Bank ranked as the second largest bookrunner of domestic Mexican currency issuances, and it has remained a market leader in short-term issuances over the past 13 years.2
"In Mexico, we are respected as a full-service bank with all the local capabilities our clients could require," points out Vinicio Alvarez Acevedo, Managing Director and Head of Debt Capital Markets Scotiabank Mexico. "When our local team sits down with a client, we present our full offering, from lending, local and international DCM, to private placements, to syndicated lending and derivatives. We can offer a holistic solution that fits their needs, and often an integrated offering that captures other complementary or cross-border opportunities."
Alvarez notes that many clients appreciate the Mexican team's local market expertise to help them debut in local currency markets: "We can take them by the hand through the process, by supporting them in a first local issuance and introducing them to our close connections in the local investment community. Or, we can help them advance into international markets when their needs evolve. The key is that we are part of a very integrated, nimble team that can deliver more diverse solutions." 
Solutions across teams and borders
Jose Ignacio Valdez, Managing Director and Head of Latin America Investment Banking, agrees, noting how Scotiabank's Global Banking and Markets division is structured to have close integration among each of the Bank's in-country and global teams: "We're achieving real connectivity between our local and regional investment bankers, wholesale banking and product specialists, who build strong relationships with clients. Our teams connect constantly, across borders and product lines, to bring strategic ideas and opportunities back to the client."
"By uniting our team capabilities, we understand our clients well, we can lead strategic dialogues with them, and leverage the right specialists, to deliver a broad, agnostic range of services that provide the optimal capital structure for them," adds Valdez. "Clients see that we are delivering very appropriate and complete advisory solutions and that Scotiabank is a solid bank and committed to the Latam region in good times and bad."
In Chile, Deneb Schiele, Director, Corporate Finance and Head of Debt Capital Markets, points out how Scotiabank's strong local and global capabilities have helped the Bank consistently earn first place in domestic bond issuances over the past four years: "Our well-established local team stands out for delivering local currency issuances, and for offering a full suite of services, from syndicated loans to project finance. Our clients value the ability to work with a full-service bank that can provide many alternatives depending on their needs or market conditions." 3
Stephen Guthrie, Senior Vice President of Chile's Wholesale Banking division, adds that collaboration across the Scotiabank network allows them to build enduring client relationships: "We work very closely with Bank teams across borders and product groups to identify new opportunities for clients. So, we might initially provide a client with a local loan or bond and later they call upon us for FX, M&A, or to help them tap into international markets. Clients are confident that we have a strong local team, that is a leader in local markets, with a full international franchise to support them as they grow."
In Peru, Gonzalo Gil, Senior Vice President of Wholesale Banking, and Esteban Romero, Associate Director and Head of Debt Capital Markets, highlight the relevance of having an integrated and coordinated platform – not only across businesses but geographies – to provide Scotiabank's clients with the best solutions. "Scotiabank has a unique business model that combines global capabilities with a strong and growing presence in Latin America, particularly in the Pacific Alliance countries. This platform allows us to have a wide set of tools to recommend agnostic local and cross-border solutions to our clients thus, establishing ourselves as trusted advisors."
Concludes Juan Fullaondo, "The LatinFinance 2020 Awards signal how we have fortified our client offerings across Latam to deliver the right advice and execution, including sophisticated strategic advice, debt capital, liability management and ESG recommendations. With the level of detail we provide on the ground, our local clients enjoy one-stop access to the most efficient and creative finance solutions."   
For more information about Scotiabank's Wholesale Banking solutions and opportunities across the Americas, please contact:

1. Bloomberg league tables, Local currency bond issuances in the Pacific Alliance, from 01-01-17 to 03-03-21, Values in MM USD.
2. Bloomberg league tables, BMV and Valmer, as of February 15, 2021, Values in MXN.
3. Bloomberg league tables, Chile domestic bonds during the 2020, 2019, 2018, 2017 periods.