Video produced in collaboration with Bloomberg.
Just as 15th Century cartographers challenged old concepts of a flat, north-centric world, today, Latin America's leading companies and investors are overturning the traditional view that all capital flows from north to south.
Scotiabank's Global Banking and Markets division delivers corporate, investment banking and capital markets solutions to top tier cohort of Latin American-based corporates and institutional investors, pursuing northbound transactions into North America and beyond.
"While north to south capital flows remain a dominant trend, investors are continually drawn to attractive asset and infrastructure opportunities in the Americas, and over the last 12 to 24 months we've witnessed a growing flow of northbound investments by Latin American-based clients looking to expand beyond their borders," explains Jose Ignacio Valdez, Scotiabank's Managing Director and Head of Latin American Investment Banking. "With our unrivaled footprint and capabilities in Latin American markets and our relationships with the region's top companies, we've been very well-positioned to seamlessly connect clients with significant south to north transactions."
Valdez describes the current rise of many large, Latam-headquartered corporate groups: "Those that have grown often exhaust consolidation opportunities inside their home markets. They are pursuing growth by deploying capital outside the region to diversify their businesses beyond their own borders. These companies have been tremendously successful at home, and now they're looking north to support their next strategic moves."  
He notes that northbound mergers & acquisition and investment is especially evident among the Pacific Alliance trading bloc countries, but with a strong lead from Mexico given the geographic proximity and greater integration with the U.S. and Canada.
Scotiabank has an enviable perspective on this new trend. With the Canadian bank's long history of serving clients in Latin America and commitment to be "the leading bank in the Americas", it offers critical connectivity and market knowledge compared to other multi-national, corporate and investment banks. In fact, following Scotiabank's investments in its Latam capabilities over the past decade, the Bank is now ranked in the top three wholesale banks in Chile and Peru, and a top fifth / sixth in Mexico and Colombia, respectively.1
"We deliver comprehensive solutions across Latin America, and we are the leading full-service wholesale bank with a local presence in all four Pacific Alliance countries and a growing presence in Brazil, from advisory and financing, to local or foreign currency capital markets access, to derivative solutions and risk management," observes Valdez. "We have a unique ability to develop bespoke solutions that best fit our clients' requirements."
He adds that, not only do Scotiabank's comprehensive offerings in each market enable it to be a one-stop shop for clients' wholesale banking services and cross-border interests, but they also create long-term client trust and confidence: "We've built very strong relationships with our clients in these markets, and we understand their business. We have a great read into what is going on in the region, we can provide the best advice and play a leading role when our clients are ready to make landmark cross-border transactions." 
This is highlighted by Scotiabank's exceptional performance in industry league tables, attaining top place as Latin American loans bookrunner, ranking number one in 2021 with US$9.94 billion in loans, and a 17.65% share of market, having participated in 56 of 59 reported loan tranches.2 In addition, over the last six years, Scotiabank has ranked either first or second among bookrunners, providing loans to Latin American companies, according to Bloomberg data.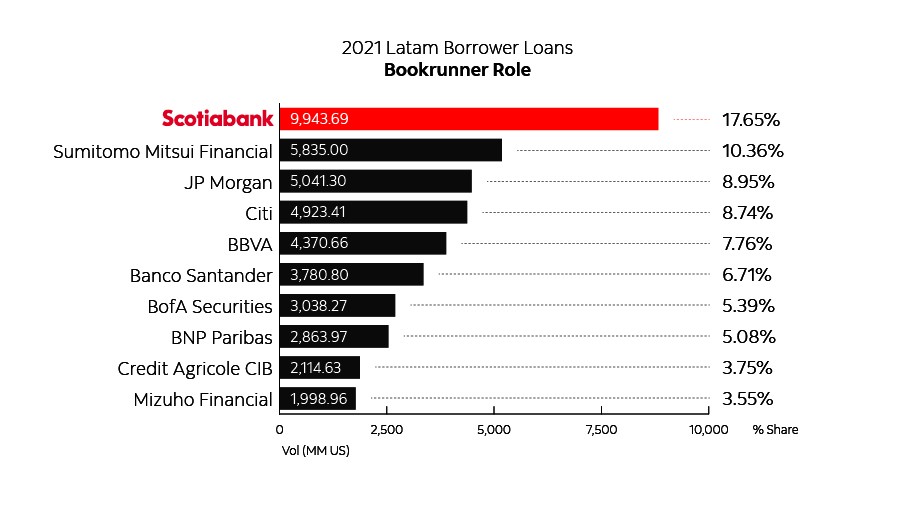 Supporting regional growth by Latam leaders in paper, power and retail sectors
Scotiabank's performance is demonstrated by recent noteworthy south to north transactions in the region. Among them, in February 2022, Scotiabank served as Sole Financial Advisor, Sole Arranger, Bookrunner and Lender to Bio Pappel, when the largest manufacturer of paper and paper products in Mexico and Latin America announced its US$200 million acquisition of Midwest Paper Group, a major, independent U.S. paper producer. With this transaction, Bio Pappel is increasing the size of its U.S. operations by 75%, and supporting its strategy of building a powerful, integrated USMCA paper and packaging company.
Scotiabank served as Financial Advisor, Lead Arranger, Bookrunner and Lender to Prolec GE, in 2021 when this major Mexican electrical transformer manufacturer made its US$645 million acquisition of SPX Transformers, a market leading U.S. producer of power transformers. Having a long-standing relationship with Prolec GE's parent company, Xignux, Scotiabank was selected to help guide this strategic transaction.
Also in 2021, Scotiabank supported Mexico's Grupo Comercial Chedraui, S.A.B. de C.V ("Chedraui") when it sought financing to acquire Smart & Final Holdings Inc. a supermarket chain located in the U.S. west. As Lead Arranger and Bookrunner to Chedraui – one of Mexico's largest retailers and publicly traded companies listed on the Mexican Stock Exchange – Scotiabank led a five-year US$620 million Senior Unsecured Acquisition Financing Term Loan, successfully syndicated to 11 local and international banks.
"Our extensive and specialized Global Banking and Markets team in Mexico was proud to help our clients complete these transactions and achieve their northbound strategies," observes Jose Jorge Rivero Mendez, Managing Director & Head, Corporate Banking, Mexico, "Seamless cooperation between our in-country team-members, and Scotiabank colleagues across the North and Latin American offices, help us make the right cross-border connections and a full range of solutions."
"These transactions highlight the seamless manner in which we operate, so we can take our client from an idea, to concluding a successful transaction, to putting the appropriate capital structure in place throughout the whole cycle," concludes Jose Ignacio Valdez. "There are so many exciting market opportunities, from south to north - or any direction our clients require - and we can serve as a very unique bridge for them across the Americas."
For more information about Scotiabank's Wholesale Banking solutions and opportunities across the Americas, please contact:

Jose Ignacio Valdez
Managing Director, Head of Latin America Investment Banking
Jose Jorge Rivero Mendez
Managing Director and Head, Corporate Banking, Scotiabank Mexico

Phone: 52-55-5123-2859
1
Rankings based on market share in loans as of June 2021 in Mexico, Peru and Chile, May 2021 in Colombia, as of April 2021 in Canada for publicly traded banks; ranking by assets as of March 2021.
2
Bloomberg League Tables, Latin American loan bookrunners, 2021.