Deal-making is always a dynamic process and Scotiabank Peru is proving its ability to get deals done despite the past year's volatility, resulting from the COVID-19 pandemic and national political unrest, calmed by recent appointments to the Peruvian presidency and cabinet.
In this challenging context, the Global Banking and Markets group is rising to the challenge by "connecting the dots" among its local, regional and global teams to deliver solutions that respond to unfolding client challenges and needs.
Enabling client-centric, product agnostic solutions

Gonzalo Gil, Senior Vice President, Wholesale Banking, Scotiabank Peru, observes how Scotiabank's long-standing approach is to create connectivity among cross-border client teams, industry specialists and global product groups: "We have the full platform of products in Peru, delivered by a local team with 'boots on the ground', integrated with our advisory and execution skills across our regional and global offices."
Jose Ignacio Valdez, Managing Director, Investment Banking, agrees: "Our collaborative approach allows us to come together across teams – including Mergers and Acquisitions ("M&A"), structured finance, Debt Capital Markets ("DCM"), derivatives and our industry specific partners – to bring all of these capabilities to the table for an integrated solution. Given our robust product suite we can focus on the best solution for our clients with a product-agnostic mindset that is client-centric and a key differentiator from our competition."
This enables the Bank to provide a one-stop solution, from transaction advisory, to local or foreign dollar lending, to domestic or overseas capital markets issuances. It also creates a worldwide pipeline of timely market information for clients.
Valdez explains that, "With so much information feeding into our local teams, from our product desks, regional offices and industry partners in North America, Europe or Asia, we are able to start bilateral conversations that give clients unparalleled reach and timely context. We can bring these opportunities to our clients first and put together a full solution that adds value to them."
The strategy has allowed Scotiabank Peru to ascend the banking league tables in recent years. Scotiabank Peru is currently one of the top lenders in Peru, has ranked 1st and 2nd in the DCM Bloomberg league tables in Peru in 2017 and 2018, respectively, as well as 1st in Peru's 2017 M&A Bloomberg league tables.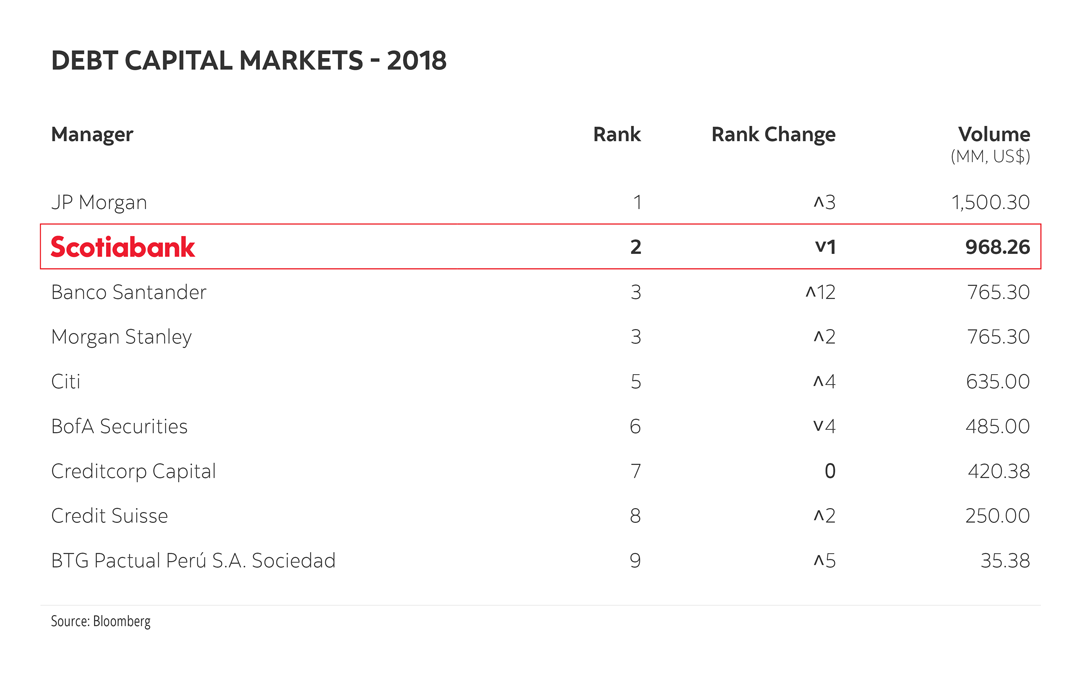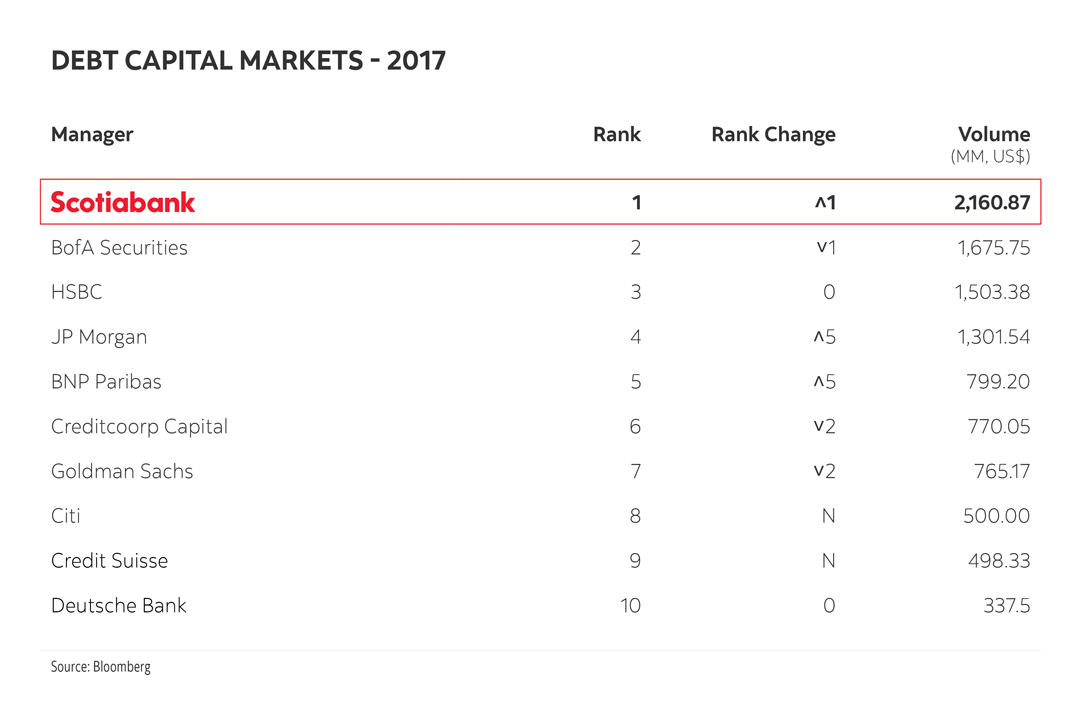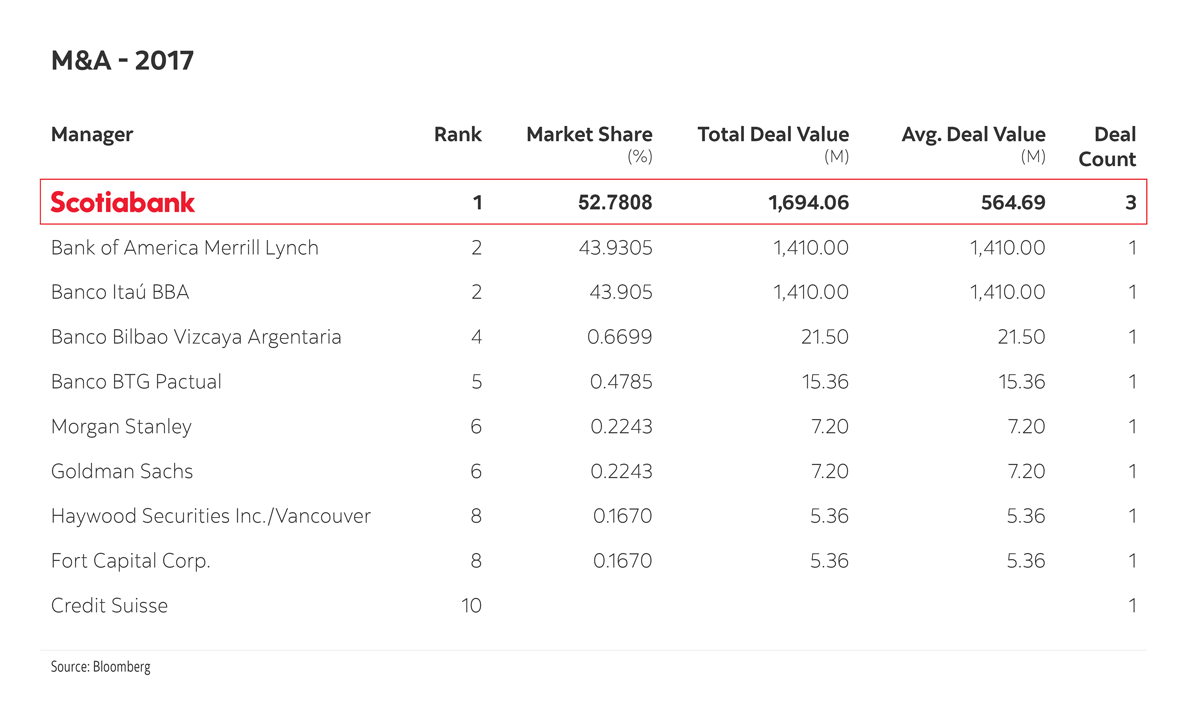 Thinking long-term, during highs and lows

Scotiabank has demonstrated its long-term commitment to the Peruvian market through the region's highs and lows. Buoyed by its solid economic foundations, the Peruvian economy was one of the fastest growing economies in Latin America between 2002 and 2013, with an average GDP growth rate of 6.1% annually.1 Rising trade volumes were bolstered by Peru's entry in the Pacific Alliance trading bloc in 2011 with Chile, Colombia and Mexico.
While lower international commodity prices slowed the annual average rate of GDP growth from 2014 to 20192, Scotiabank continued to invest in its extensive personal, corporate and commercial banking network to support client growth ambitions. The country is currently recovering from the impact of the COVID-19 crisis, which has taken a toll on the country's developing economy.
Peru has also faced its share of political volatility, with five presidents holding office over the past four years, including Francisco Sagasti, who has been recently appointed as the new President of Peru to fulfil the government mandate until July 2021. Sagasti's designation as interim President until elections scheduled in 2021 has renewed calm following public protest.
Observes Guillermo Arbe, Scotiabank Peru's Head of Economics: "A Sagasti government is likely to be broadly pro-market and orthodox on economic issues… Now that the political crisis is over, a reasonable government is in place, and the path to elections apparently no longer at risk, perhaps the most important message is that business, household consumption and, indeed, daily life can get back to normal and the one-week political crisis and protests will have not more than a mild, short-term impact on the economy."3
Such perspectives on Peru's trajectory have informed Scotiabank's expectations for renewed national growth going forward. Prior to the COVID-19 crisis, and despite recent economic and political uncertainty, in early 2020 Scotiabank Global Economics forecast the potential for Real GDP growth in excess of 3.0% for 2020 and 3.5% for 2021, current projections point to 8.7% in 2021, following a projected rate of -11.5% in 2020, resulting from the year's dramatic events.
Sharing strength during crisis

Although many observers look forward to a new year – to put behind the unprecedented events of 2020 – Jose Ignacio Valdez describes how Scotiabank remained a solid ally to Peruvian clients during the social, economic and political upheaval of the past 10 months: "This environment has generated issues for clients who need balance sheet support or working capital and we've stood by these relationships at a very critical time."
He points out that clients appreciate how Scotiabank keeps them apprised of shifting opportunities: "In cases where COVID-19 creates M&A project delays or cancellations due to uncertainty about asset valuations, we closely monitor the situation to advise clients on the right time to re-launch a process, reach out to investors or market an asset."
Scotiabank's Latam Investment Banking team provides regional coverage that's beneficial to clients who are unable to travel. Across the business, teams in other geographies bring opportunities forward and work closely with Scotiabank Peru to support local needs. Valdez adds, "Although many deals are 'in the freezer for now,' any transaction that makes strategic sense will come back to the market once we see the dust settle and can determine the impact on asset valuation."
Winning mandates despite mayhem

Gonzalo Gil points out how Scotiabank's resilient platform and reputation has enabled the Bank to originate new transactions, despite the crisis: "With our credibility as an advisor and capital provider in difficult times, we earned significant mandates that speak to our clients' confidence in our platform and in the fundamentals of the economy."
In March 2020, Scotiabank served as exclusive M&A advisor to Interconexión Eléctrica (ISA), when the Colombian-based power operator decided to acquire I Square Capital's Peruvian power transmission network, an acquisition that further positions ISA as the largest transmission company in Peru. Scotiabank also acted as sole lead mandated arranger and lender of a US$150 million acquisition facility.
Valdez recalls: "We connected the dots of the potential deal and with the support from Scotiabank in Colombia, who also had a strong relationship with ISA, and our investment banking team in New York, we approached ISA REP (Peru) with an integrated proposal and impressed them with our knowledge of the assets, the seller, and our capabilities to deliver a full product solution. We strongly believed we could bring substantial value to our client."
This is also confirmed by Scotiabank's clients, such as José Ivan Jaramillo, CFO of ISA REP: "We worked closely with Scotiabank as M&A advisor and on the financing side of the acquisition and are pleased with the dedication, quality of service and support we received. Teams from Colombia and Peru from both ISA and Scotiabank worked together seamlessly to define and execute the acquisition strategy, and that collaborative partnership is what ultimately led to our success in the transaction."
These transactions speak to Scotiabank's capabilities, and the long-view promise in Peru. "At the end of the day, the macro-fundamentals of Peru are solid and there is growth potential, particularly in light of the infrastructure deficit and demand for harbours, airports and roads to get the country running again," observes Gil.
Concludes Gil, "There is reason for optimism in this country, with its consistently growing middle class and strong potential. Through our long-term relationships, our full product offering, and the ability to connect the dots across our footprint, we are helping clients discover these opportunities."
Operating in the region for over 50 years, Scotiabank brings deep local understanding and on-the-ground presence across Latin America.
For more information about Scotiabank's Wholesale Banking solutions and opportunities in Peru, please contact:

Gonzalo Gil
Senior Vice President, Wholesale Banking, Peru

Phone: 51-989-050-315
Jose Ignacio Valdez
Managing Director, Head of Latin America Investment Banking

Phone: 511-211-6876
1
World Bank, April 16, 2020.

2
World Bank, April 16, 2020.

3
Scotiabank Latam Daily, November 16, 2020.