As the Mexican economy has lumbered forward in recent years, Scotiabank Mexico's Global Banking and Markets team has worked vigorously to help corporate, commercial and institutional customers achieve domestic and international growth, despite unfolding national and global challenges.
"We never stop working in Mexico, whatever the challenge, to earn clients' trust and deliver results through the strong connectivity of our global platform and Pacific Alliance footprint," remarks Jose Jorge Rivero Mendez, Managing Director of Corporate Banking in Mexico.
Despite events ranging from trade tensions to the COVID-19 pandemic, Rivero Mendez talks about diverse client successes, from co-arranging Latin America's first sustainability-linked loan (for Fibra UNO), to supporting the regional capital needs of a top beverage brand (Coca-Cola FEMSA). Even more impressive: helping a multi-national airport operator 'digitally' issue the first corporate bonds in Mexico during the pandemic, despite widespread fears that air travel was indefinitely grounded (Grupo Aeroportuario del Pacifico).
Becoming the trusted banker to Mexico's top corporations

As an 18-year veteran Scotiabank employee based in Mexico City, Rivero Mendez can detail Scotiabank's ascent to become the bank of choice to many of Mexico's top 100 companies. The Toronto-headquartered bank intensified its commitment to local corporate and institutional clients in recent years, bolstering its in-country services, ranging from comprehensive equity, debt, hedging and currency trading to highly integrated corporate lending, origination and mergers and acquisition advisory teams.

Scotiabank's global cash management and transaction banking offerings have also expanded, as Mexican companies ink deals with Pacific Alliance trading bloc partners, and through the recently ratified USMCA trade agreement with the US and Canada.
"What makes us truly different is our highly-connected platform, focused on serving clients across the Americas," notes Rivero Mendez. "While many banks say they have 'global' offerings, we work seamlessly across our local teams, our colleagues in each country, and our specialists around the world, to bring solutions to cross-border customers. We know 'connectivity' is what customers value most, so we are all accountable for executing connected solutions."
Scotiabank's performance stands out in league tables, with the Bank ranking among the leading corporate debt underwriters in Mexico for both short- and long-term issuances, and among the main securitizations underwriters. Specifically, Scotiabank is ranked second largest underwriter of long-term bonds in Mexican debt capital markets per issuance amount, year to date, 2020, with 17% market share1. In addition, Scotiabank is recognized as the #1 bookrunner in loan syndications across Latin America, with US$1.87 billion in volumes year to date, 2020, and a 15.4% market share2.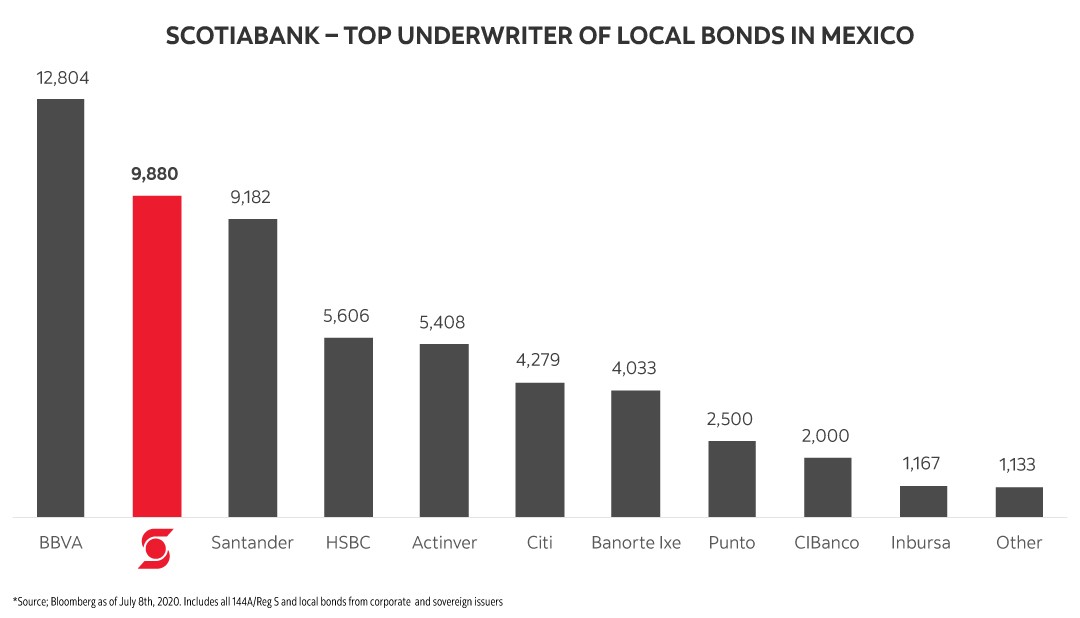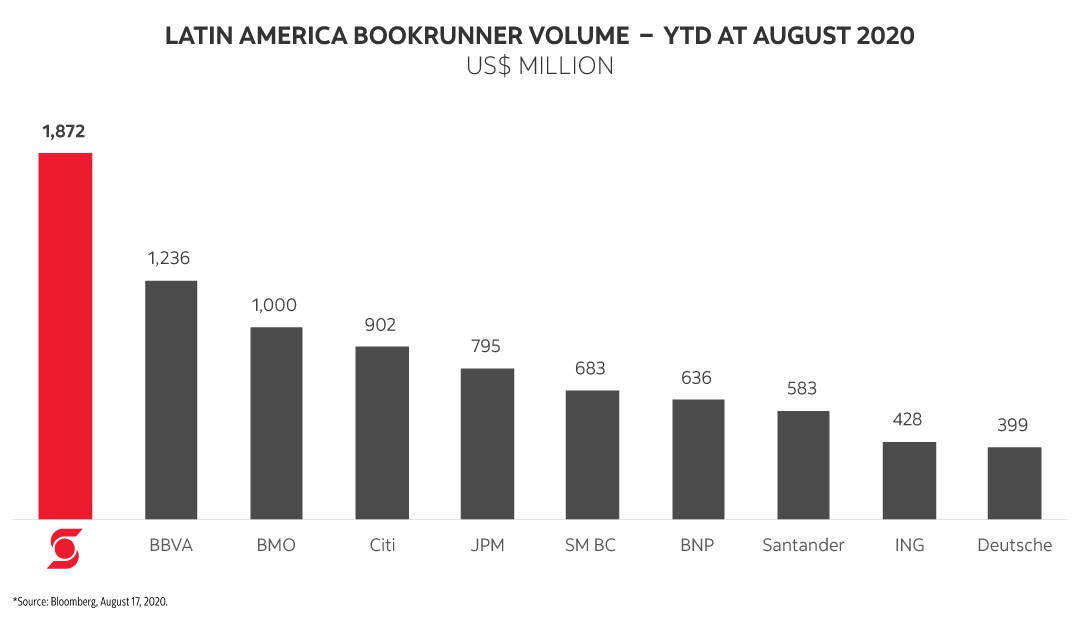 "To build something very special, we've streamlined our processes to provide fast responses to clients and we go the extra mile to connect our teams and put together solutions that work for the client," says Rivero Mendez.
Shifting customer priorities

Responsiveness is especially important amidst ever-changing priorities in the world's 15th largest economy3. Even before the pandemic, lackluster economic and investment sentiment in Mexico put pressure on the entrepreneurial sector. While many corporations chose to postpone their domestic investments, others sought growth outside Mexico, through acquisitions in Latin America, North America and Europe. This has helped Scotiabank build market share, as these companies require a banker with strong capabilities on each continent.
Rivero Mendez also notes that, while pricing was previously the biggest consideration, since the pandemic, clients now place greatest value on the confidence they feel in their bank's strength and relationships: "They want to work with strong banks who will support their liquidity needs in difficult times. We've demonstrated our commitment, by increasing our lending volumes by nearly 30% in the three months following the pandemic declaration."
Continuity and connected solutions have impressed clients such as Coca-Cola FEMSA ("KOF"), the world's largest bottler and marketer of Coca-Cola System sales, with operations in 10 Latin American countries4. Having been a regular lender to KOF and its subsidiaries in Mexico, and other geographies where credit access is often limited, Scotiabank was awarded the mandate as Joint Bookrunner for KOF's issuance of USD$250 million in fixed and floating rate notes in February 2020.
Noting that the order book was over-subscribed by 4 times, despite the lowest spread in recent history for a corporate issuer, Rivero Mendez observes that, "We earned their trust based upon our relationship, and together we developed a well-structured, well-timed issuance that attracted the largest array of investors in a small market."
Commenting on their own relationship with Scotiabank Mexico, Constantino Spas, Director of  Finance, Administration and Strategic Planning at Coca-Cola FEMSA, says that, "For Coca-Cola FEMSA, Scotiabank stands out as a bank that has accompanied us in the development and growth of many of our operations in Latin America. We value the service received in each country, always coordinated by a global relationship team. We acknowledge the experience and knowledge of the Capital Markets team who supported us with a successful placement in the local market at the beginning of the year."
Helping clients lift off in new directions

Scotiabank is also proving its value to more recently enlisted clients like Fibra UNO, Mexico's largest real estate investment trust ("FUNO"). FUNO selected the Bank as Co-Arranger for Latin America's first dual currency, senior sustainability-linked revolving credit facility in July 2019.
Designed to provide the client with liquidity and capital for future acquisitions, the approximately US$750 million facility also satisfies growing interest in ESG (Environmental, Social and Governance) considerations. The 'green loan' spread is linked to sustainability Key Performance Indicators, including electricity consumption. Following this transaction, Scotiabank was chosen as Senior Mandated Lead Arranger for a US$500 million senior credit facility, when FUNO decided to acquire the Titan Portfolio of 74 industrial properties and land reserves.
But Scotiabank's ability to take clients in new directions was most clearly revealed when it helped Grupo Aeroportuario Del Pacifico S.A.B. ("GAP") launch a US$187 million bond issuance in June 2020. When this operator of 12 Mexican airports and 2 airports in Jamaica sought capital to support its operating concessions, it chose Scotiabank as Joint Bookrunner. GAP made the choice in part on Scotiabank's track record providing lending, cash management and banking services to GAP in Mexico and Jamaica.
Podcast: Francisco Suarez, Director, Global Equity Research at Scotiabank Mexico, looks at economic pressures and opportunities for growth in Mexico.
Although the bond issuance occurred during the peak of COVID-19 – amidst market volatility and angst about the future of air travel – the order book exceeded expectations and GAP became Mexico's first corporate bond issuance since the pandemic began. Rivero Mendez adds that, "This was also the first time in Mexico for a completely digital bond issuance. We did everything from pricing and marketing to execution through digital channels, with the client and investors connected in real time to the auction." 
Virtual deal making was also key on September 10, 2020, when Scotiabank served as Joint Bookrunner for a US$800 million notes issuance for IEnova, one of Mexico's largest private energy companies. Through an 'online' roadshow and intense calling to global investors, the order book was three times oversubscribed, with significant interest from asset managers in North America, Europe, the Middle East and Asia.
Rodrigo Melendez, IEnova's Director, Treasury recalled that, "Over the last few years, Scotiabank has been a strategic ally of IEnova. Its recognized capabilities, wide range of products and services, and flexibility have been fundamental in achieving IEnova's results. We appreciate the importance Scotiabank has placed in the relationship and are certain that we will continue having a close partnership."
While client activities in Mexico speak to the current challenges of pursuing growth, diversification or stability, Rivero Mendez is steadfast regarding his clients' future prospects and Scotiabank's approach: "We believe that consolidation and growth opportunities will come. We are well-entrenched, and have built the trust, connectivity and capabilities to help our clients face the challenges and succeed."
Operating in the region for over 50 years, Scotiabank brings deep local understanding and on-the-ground presence across Latin America.
For more information about Scotiabank's Wholesale Banking solutions and opportunities in Mexico, please contact:
Jose Jorge Rivero Mendez
Managing Director, Corporate Banking, Scotiabank Mexico

Phone: 52-55-5123-2859
1. Bloomberg, July 8, 2020.

2. Bloomberg, August 17, 2020.

3. International Monetary Fund World Economic Outlook Database, October 2019.