Advisory
Scotiabank: 2018 Bank of the Year by LatinFinance
December 10, 2018
Scotiabank is proud to have been named 2018 Bank of the Year by LatinFinance for excellence in retail, commercial and investment banking services for Latin America and the Caribbean.
Scotiabank's James Neate, Co-Group Head, Global Banking and Markets, Head, Global Investment and Corporate Banking, speaks to LatinFinance on the Bank's strategic focus in the region. Read the full article below, as featured in the November/December 2018 edition of LatinFinance magazine.
Bank of the Year 2018: Scotiabank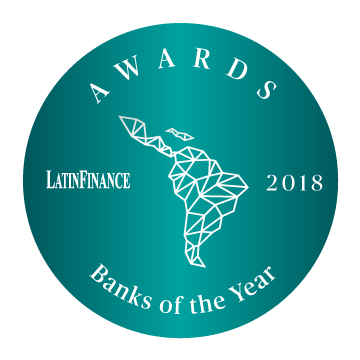 This year's winner doubled down on its long-term regional strategy with new acquisitions in the Andes and the Caribbean.
This past year in Latin America and the Caribbean has been one of transition. A new prime minister in Barbados unveiled a debt restructuring, while financial institutions in the region's two largest economies, Brazil and Mexico, have had to keep a close eye on how new economic policies could affect investments and business decisions.
Scotiabank, however, has used the year to double down on its long-term growth strategy in the region, making high-profile acquisitions in Chile, Colombia and the Dominican Republic.
In February, the Canadian lender agreed to buy Citigroup's consumer and small business operations in Colombia through its local subsidiary Colpatria. The acquisition expands Scotiabank's retail and commercial banking businesses and gives it access to affluent clients in Colombia, says James Neate, Co-Group Head, Global Banking and Markets, Head, Global Investment and Corporate Banking.
The deal with Citigroup came just three months after Scotiabank offered $2.2 billion to buy a majority stake in BBVA Chile, looking to build its businesses in another member nation of the Pacific Alliance trade bloc.
"The Pacific Alliance is a key growth area that we have focused on in the last five years," Neate says. "Chile is a market with a great rule of law and a well-established, emerging middle class that we are very excited about."
BBVA Chile doubles Scotiabank's market share in the country to 14% and gives it an investment bank with an important presence in the local capital markets.
"In Chile and Colombia, we bought banks that allow us to increase scale, both locally and in the Pacific Alliance," Neate says. "In Colombia, we've acquired a new portfolio of customers, which has made us the number one credit card issuer."
Scotiabank has also pursued other (CDPQ) joined a group of local institutional investors to buy eight wind and solar energy projects in Mexico from Italy's Enel for $1.35 billion. CDPQ also contributed to a $1 billion loan in January for the Colombian public utility company Empresas Públicas de Medellín to finance the Ituango hydroelectric power plant. Canadian investor Brookfield has made a string of acquisitions in recent years, including the Colombian government's stake in power company Isagen and Gas Natural Fenosa's gas distribution and supply business in Colombia.
"We've spent a tremendous amount acquisition opportunities in the Andes. The bank's subsidiary in Peru agreed to buy 51% of Banco Cencosud for roughly $102 million in May and entered a 15-year partnership to manage a credit card business, similar to agreements the pair has in Chile and Colombia.
In the Caribbean, Scotiabank's $330 million acquisition of Banco Dominicano del Progreso makes it the fourth largest lender in the Dominican Republic with a 10% market share. "Our roots go back a long time in this area," Neate says of Scotiabank's presence in the Caribbean.
"Buying Banco Dominicano del Progreso was something we looked at for some time as it gives us meaningful scale by leveraging local opportunities." Neate says the Caribbean is an important area for Scotiabank's international business.
The Canadian lender is a market leader in the region, and the Progreso purchase comes as the Dominican Republic is enjoying positive economic growth. "There are a lot of infrastructure and tourism-linked opportunities in the Dominican Republic," Neate says.
"The country is also growing at a 5% to 6% annual GDP rate so there is a chance to capitalize on macroeconomic factors." Scotiabank's mounting presence in Latin America coincides with a similar strategy from Canadian investors.
In October, the Canadian pension fund manager Caisse de Dépôt et Placement du Québec of time carefully covering pension funds and institutional investors that are looking to broaden their international footprint," Neate says.
Scotiabank advised emerging markets investor Actis on the $1.26 billion sale of energy assets in Mexico to Intergen, which is owned by Canada's Ontario Teachers' Pension Plan and China's Huaneng Group and Guangdong Yudean Group.
"We support these pools of capital and their investments in the region through M&A advisory and corporate banking," Neate says.
Canada's pension plans have bought equity stakes in Latin American firms for years, ranging from water utility companies in Chile and renewable energy projects in Brazil to toll roads in Costa Rica and Mexico to name a few. Now they are becoming involved in debt financing, and Scotiabank is stepping in.
"For a Canadian pension fund to walk across the road and talk to a Canadian bank is helpful," Neate says. "Our experienced teams in these countries can help navigate the local environment."
On the investment banking side, M&A mandates for the likes of Vitalmex and Inversiones La Rioja attest to Scotiabank's advisory capabilities.
And underwriting sovereign bonds for Peru and Chile, along with corporate deals for Enel, Cable & Wireless Communications, Millicom and Pemex in the last year, underscore Scotiabank's work across different asset classes.
Scotiabank is now looking for more buying opportunities in Latin America that relate to its overall strategy. "We are focused on the underlying economic cycle and we are keeping an eye on geopolitical risk," Neate says.